Thrill way of The Warrior Team Building Obstacle Course Corporate Challenge or Race is professionally set up and conducted at all conference venues, our facilities or nearby parklands and sport facilities.
Get your sights on Target and achieve your business goals!

Toughen Your Staff Up with Eco Challenges, Tough Mudders, Gladiators, Spartans and Tough Team Events by Thrill

Is your team tough enough to take on a Thrilling obstacle race challenge?
Test to see if your corporate employees, workers, staff and employees have got what it takes at winning your own WAY OF THE WARRIOR – TOUGH TEAM CHALLENGE!
We Train your staff to be more resilient, empowered, confident and capable and then test our results on you.
Enjoy a blend of physical, yet fun for all  team building activities that develop teamwork.  ECO CHALLENGERS, TOUGH MUDDERS, TOUGH BLOKES, RAW CHALLENGERS, SPARTANS.

Get ready for the best fun adventure events and team building camaraderie activities your team can handle.
Fun physical and mental challenges can be conducted at your work place, offices, Conference Venues or just down the road in a local Park. Thrill sets up our mobile obstacle challenges everywhere. But is your team tough enough? Completing a series of challenging team building activities in a fun adventure race or eco challenge. With or without the tough mud! We will toughen up your team. We can make it as easy or competitive as you like.
Teams navigate around a set arena. Completing as many activities and obstacles in a set time period as they can! Teams strategise. Lining up activities in a sequence of scoring and greater importance to their overall strategic success.
Experience Way of the WARRIOR Corporate Challenges at Conferences Venues in Sydney, Hunter Valley, Blue Mountains and Gold Coast



Sydney – Hilton, at all Novotel Hotels, Mercures, Citigates, Park Royals, Crowne Plazas, Stamfords and Sheraton On The Park.
Sydney Olympic Park – Eco Challenges; From ANZ Stadium, Cathy Freeman Park, Pullman and Novotel Hotels, Waterview Conference Center and The Armory.
Manly Pacific Novotel and Sebel
Coogee – Crowne Plaza
Southern Highlands – Peppers Manor House, Gibraltar, Craigieburn and Milton Park House.
Blue Mountains at Lilianfels, The Fairmont Resort, The Carrington, Hydro Majestic and Mountain Heritage Lodge
The Hunter Valley – Crowne Plaza, Peppers, Cypress Lakes
Central Coast – Terrigal Crowne Plaza, Kooindah, Magenta Shores, The Entrance
Melbourne -Yarra Valley Conference Venues, Great Ocean Road, Cumberland Resort Lorne
let us know where you are and we will customise a Warrior Challenge as your next team event!
Blending Thrilling team building activities into one fun adventure race style package. Professionally hosted by THRILL adventure race experts, with excellent evaluated results, consistently.
Obstacle Course Race Team Building Activities Tackled by Tough Teams
With a balance of Physical, Cerebral, Lateral Thinking, Problem Solving and Strategic Planning activities for all Abilities, Ages and Interests. Each Australian Warrior Challenge program receives tailored content matched to suit the group of participants. Warrior Challenges are fine tuned to the route, locations, interests, skills, timing, weather, cultural considerations, dietary requirements and physical abilities of each team member. From serious corporate competition Warrior Challenges to 'just for fun' formats. Corporate team activities for groups in Sydney and Melbourne, companies and businesses requiring quality team building results.
Social groups for experiencing enjoyment and fun together with friendly competition. International Team Incentives in Sydney and Melbourne. Discovering iconic locations whilst enjoying unique activities that are rewarding and show off the destination.
Who is THRILL WARRIOR suitable for? Every business and sales teams looking to improve their;
empowerment of staff
engagement of employees
develop and strengthen relationships
health
functioning
trust
respect
communication
cooperation
trust
cohesion
problem solving abilities
committment
collaboration and
further develop their leadership skills.
Warrior Challenges are ideal for Conference break outs and Team Meetings for team building ice breakers or team energiser activities to stimulate thinking and networking. Corporate Planning Days & Off-Sites – fun interactions and positive friendly competition across a range of team activities. Large Scale Group Activities – for active engagement, embedding and delivering a corporate message or business value.
Corporate Challenge Events and Adventure Race Activities at all locations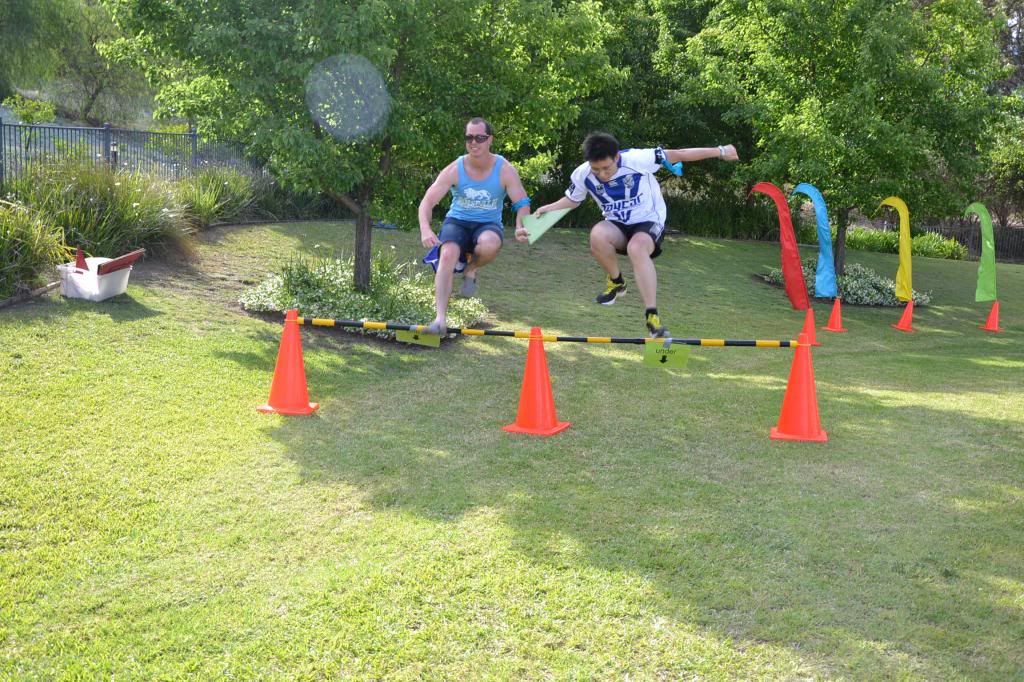 Physical challenges
Lateral thinking puzzles or problem solving
Obstacle Challenges – over 30 activities and variations
Underwater or underground Tunnels
Electric Shocks
Everest ascents
Cliff hangers
Berlin walls
Rope climbs
Team Obstacle Challenges – There's no I in team……
Professional Thrill staff, facilitating your Warrior team building outcomes.
Provided on Corporate Obstacle Race Challenges by Thrill
All Warrior Challenge equipment.
Backing music to generate the excitement
Professional Facilitators, Hosts, Coordinators / MC's
Experienced instructional staff at team activity & challenge checkpoints.
Unique Warrior Challenge team building activities
Warrior Challenge Trophy – engraved with company details + Prizes*
Wet weather ponchos and wet weather back up plans.
Activities and routes can be built tough to suit your team

Typically Warrior Challenges are approx 2-4hrs. Each designed to meet your requirements. THRILL Warrior Challenges are available in all Australian cities, resorts, conference centers, function venues, beaches and remote regions.
Warrior Race Team Building Activities Obstacle Course Training Benefits
Natural flow of real team building systems
Improved Communication skills
Increased Cooperation
Team Work & Accountability
Improved Planning, Project & Time Management
Strategising & Budgeting
Developing team camaraderie & interpersonal relationships
Collaboration and integration of people
Sharing unique team experiences
Breaking down barriers
Foster positive working team relationships
Challenges are designed to improve teams!
Problem solving, planning, leadership, communication, negotiation and team-work skills.
Integrates team development strategies
Strengthens team bonds and develops staff inter relationships.
Fun Obstacle Challenges Improve Cooperation and Team Work
Allow us to create  a brilliant exciting and engaging team building program. Designed to enable team work and increase staff morale. Ideal for conferences and developing leadership skills.
Enjoy superb Australian Obstacle Race activities and fun challenges, in a competitive race against the clock. THRILL will design and deliver your Toughen The Staff Up Experiences.
Complete the enquiry form for Free Trophy, Prizes and Professional Photography Packages*.
Call us NOW 02 9630 2222 for Fun physical & mental obstacle races that get results at work.